Design 500
As expected this year we have our design No 500!
End of June I got the order for a design based on hull No 490. This design is at the moment under construction at KM Yachtbuilders. No 500 will have a different layout. The sail plan will show a genua in light air and a self-tacking jib in medium to heavy conditions. She will be steered with a tiller so I changed the rudder behind a skeg to a balanced rudder. From the partly covered cockpit you enter the deckhouse with 360 degree view around. The deck is 150 mm lower than on No 490.


New location

End 2016 begin 2017 we will move to the fishing village Den Oever. This small village is located between the IJsselmeer and the Waddenzee, so freshwater, seawater and a nature reserve on walking distance. It is close to the Frisian yards and easy to reach from Schiphol.
KON-SPAW
Visit at KON-SPAW Poland
KON-SPAW recently build a 40 ft v-shaped hull, design 487. They now build a second one and have an enquiry for a third.
We first drove to Usedom where the first, technical ready hull, is based. On first sight everything looked a bit unfaired. Coming inside it appeared that on request of the client all floors and framing where weld double continuous instead of intermitted. The construction was nicely made with very good alignment of the joints. Due to the continuous welding the unfaired outside was no surprise. After painting she will look great.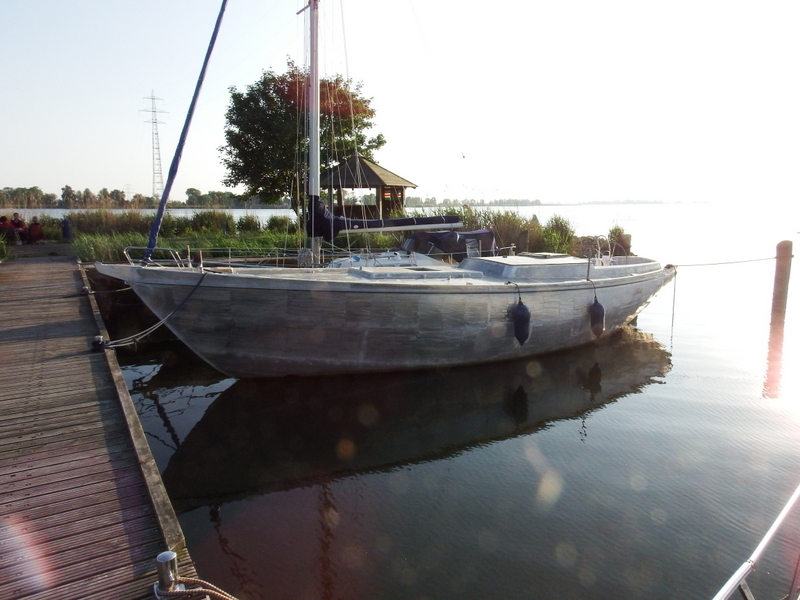 Visiting the yard was a positive surprise. They only build in alumium, so no steel. Welds will checked with x-ray and the alignment of joining members was very good. Biggest difference was the little ore no grinding on welds outside on deck. They are not used to this sort of yachts so they don't have their own standard solutions and need more details and information than the Dutch yards. Looking at the prise difference (around 25 %) It is really of interest for bigger yachts and clients not living close to the Dutch yards and has to fly to the yard anyway.